Life On The Forum, part one.
Mamma Roo and I spend a whole lot of time every day assisting Photobucket users. A
lot
of time. In fact, we pretty much live on the forum.
It is really kind of hard to explain to the rest of the team or to people who volunteer on forums what it is like for us. So, while doodling in my graphics program one day, I decided to draw what goes on behind the scenes. Forgive me for the primitive stick figure likenesses and the chicken scratch penmanship.
The team
The forum is part of a big team dedicated to making things run well for our users. We are The Photobucket Support Team.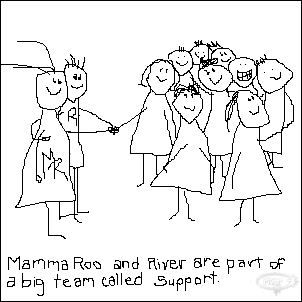 Posting
Here we are making an important post. An announcement to let you know what's new at the Bucket. Mamma swings a heavy hammer.
Looking for a thread
We get a lot of visitors, but we try very hard to make sure that old threads with invalid information go away so that we can always offer quick accurate information. Sometimes things get lost deep in a pile of old threads and we really go nuts hunting through old stuff. Here we are looking for some information for a user. Where did that thread go?